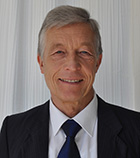 Managing Director:
Dr. Johannes M. Respondek,
a Dipl. - Chemist, who also studied pharmacology and toxicology during his thesis. Before starting OPTIPHARM on 1st January 2004, he gained a solid experience in all phases of the R&D value chain, working 23 years in the pharmaceutical and biotech industry, including 3 years in a CRO. He worked in staff and line management functions in mid size and blue-chip pharmaceutical companies on both sides of the Atlantic (Bristol-Myers-Squibb, Degussa Pharma/ASTA Medica, Novartis, ICON, Boehringer-Ingelheim, november). He gained supervisory board experience as a member of the SANOCHEMIA supervisory board for almost 15 years.
Special Expertise: General management and operations, R&D e.g. pharmaceutical forms, compilation and evaluation of pre-clinical data, regulatory strategy and filing (EMA and FDA), GCP and clinical operations, project-management and -controlling up to pre-marketing, business development, diverse indications with particular experience in oncology.
Partners:
Respondek & Fan Pte Ltd
Singapore, Bangkok

Contact:
Dr. Andreas Respondek
1 North Bridge Road
#16-03 High Street Centre
Singapore 179094
Tel: +65-6324-0060
Fax: +65-6324-0223
e-mail: respondek@rflegal.com
http://www.rflegal.com